Shop According To Trends
Head to a mainstream retailer and take note of what's trending. Do you see a ton of leopard print? Is everyone going with gold accessories? How about leather embellishments? Then, head to the secondhand or thrift store and start looking for items that embody those trends.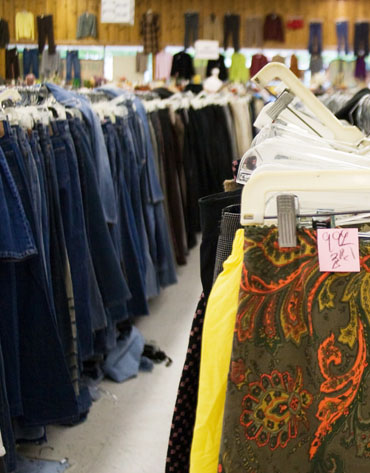 The point is, fashion is cyclical: You might find a vintage leopard-print belt that is years (or even decades) old, but totally current. Secondhand clothes that feature embellishments such as sequins, heavy contrast stitching, and glitter might look cute, but remember that they've already had some use. Even if the embellishments seem secure now, over time they can loosen and even fall off. What's more, you might not even notice that embellishments are missing when you first grab the item. Instead, look for quality basics with fun fabrics, instead of sewn- or glued-on embellishments.
A hole may seem like no big deal if you're a great seamstress. However, if you have no idea how to repair items, skip over the stuff with holes, embellishments that are falling off, and other areas of clear damage. If you don't have the ability to fix it, it's a waste of money – no matter how good of a deal. Give a piece of clothing a good once-over. Are there stains? Does it have a funny smell? These are two red flags that the item might not be the best quality. Even if you could wash out the stains and smells, it's a sign that the previous owner might not have taken good care of the item. One thing I always advise people to buy from thrift shops is jewelry. There is usually a massive selection, and often you can't really tell the cheap jewels from the expensive ones.
Head over to the accessories section of the thrift store and load up on statement necklaces, vintage brooches, eclectic watches, and large rings. Adding them to your wardrobe basics and thrift store finds can make everything look more expensive and of better quality. Just be sure to check that stones are firmly glued, and watch for broken clasps.